Hey! Is this thing still on?
It's been more than a year since I last wrote here, and a couple of people have said that they missed reading me, so I let the little itch settle me back into writing a bit more about
2000 AD
and the
Judge Dredd Megazine
. If you're new to this blog, basically, ages ago, I sat down and started rereading my collection at the rate of about six issues a week. By the time I got to something like 1993, I decided to rip off Paul Rainey's Prog Slog Blog and write a little each week. I let this turn from a pleasure into a chore and found myself running out of things to say, so I quit doing it.
I kept on
reading
, but rather than skipping this blog ahead to where I had reached at the end of June - to the issues originally published in September of '08 - I am going to re-reread and report and scan, so there's not a break in the entries.
Also, John Smith's completely brilliant series
Indigo Prime
is returning to the comic in about two months, and I am certainly going to want to celebrate that. Look for an article about that great series in September. Plus, of course, this is a fine week to relaunch this blog, because - and when I started the first draft of this entry, I didn't know this was coming - the
2000 AD
website has just been quite spectacularly redesigned. If you have not visited the web site in a while, you should
definitely swing back by
, because they have done a super job upgrading it.
Anyway, you've got me for thirteen weeks. I'm committing to that much. We'll see how it goes. You'll also notice there's a Google Ad somewhere over to the side somewhere. That's new. If you enjoy Thrillpowered Thursday and see an ad that might interest you, I sure would appreciate it if you'd click it. Money's got to be pretty darn tight since my wife and I had a baby two months ago. If there are some pennies in this blog, I might can see myself writing longer.
So, onto prog 1387. This wonderful cover, by Dave Gibbons, of Bill Savage and Judge Dredd, reminds me that the summer of 2004 - that's when we received this April-dated issue in North America - was when my best buddy, the fellow who introduced me to
2000 AD
, up and moved to Canada. For a few years, I'd been feeding
his
thrill-power habit because Diamond, the distributor that sends
2000 AD
to American funnybook stores, was completely unreliable, repeatedly missed shipping dates and would occasionally claim that they were shorted and would only send one issue to a comic shop if it, in fact, ordered two. So, nothing's changed there, anyway. In other words, for
quite
a few years, I was ordering and paying for two copies of
2000 AD
in order to guarantee delivery of at least one of them. From prog 1387, my second copies - when those second copies arrived, about eight times of ten - went to another local friend.
These days, I no longer use Diamond for
2000 AD
. I was, however, very pleased to hear that they will be once again offering
2000 AD
by the single issue rather than in a sealed pack, as had been the case for some lengthy time. I hear that's supposed to start at the end of this month, for the comics that will ship in October.
1387 was also notable for the debut of two great big series that are still continuing today. The seventh book of
Savage
is running in the current issues of
2000 AD
, and a new series of
Low Life
is scheduled to start in just a couple of months, in prog 1750.
Savage
is the story of an occupied Britain, which lost a quick-strike "war" with the eastern European Volgan Empire five years previously. It's the sequel to one of the original
2000 AD
serials,
Invasion
, which ran from 1977-78. Our hero is Bill Savage, who lost his family to the Volgs, picked up a shotgun and has been blowing hell out of the Volgs in a long-running guerrilla war. As book one of
Savage
opens, Bill and other resistance leaders are executing a plan to fake his death so he can work undercover.
Written by Pat Mills and illustrated by Charlie Adlard,
Savage
is just a blisteringly good comic, full of realistic villains and desperate heroes. Well, there's one bit in the first series where the Guv'nor's research fails him and tank treads suddenly don't work the way they really do, but otherwise this is a really great series, and shows Mills continuing to roar back to life with some fantastic comics for
2000 AD
. Several more winners would be forthcoming.
Then there's
Low Life
. This is less a spinoff from
Judge Dredd
than one of the many comics that are set in his world. The Low Life is the most crime-ridden slum in Mega-City One (this week, anyway) and the series follows a group of undercover "Wally Squad" judges. In these initial outings, scripted by Rob Williams and drawn by Henry Flint, the lead is Judge Aimee Nixon, a tough, ugly, broken-nosed, one-armed master of disguise.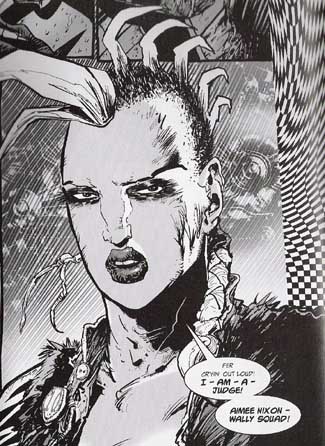 In time, Nixon will cede the spotlight to her more popular co-star, the comically deranged Judge Dirty Frank, but she is really a compelling and fascinating character in these first two stories. In time,
Low Life
will get pretty dense with subplots and Nixon's role will take a pretty surprising turn. Most fans are anxiously awaiting its return in September.
Also appearing in this prog, there's
Judge Dredd
in a one-off by John Wagner and Cam Kennedy, an outer space serial called
A.H.A.B.
by Nigel Kitching and Richard Elson, and
Chopper
by Wagner, Patrick Goddard and Dylan Teague.
Stories from this prog are reprinted in the following editions:

Chopper: Surf's Up (2000 AD's Online Shop).
Low Life: Paranoia (Amazon US)
Savage: Taking Liberties (2000 AD Online Shop).

Next week: What happens when Judge Dredd takes on the war on terror. And stop by my
Bookshelf Blog
tomorrow for a short review of the
Mean Machine
collection, "Real Mean."